Hear Eva-Maria Zimmermann play:
* Solo: Frank Martin, preludes for piano, No. 8 - LIVE
* Solo: Leos Janacek, "In the Mist", 4 pieces for piano, No. 3 - LIVE
* With René Perler, bass-baritone: Robert Schumann, Dichterliebe, No.12
"Am leuchtenden Sommermorgen" - LIVE
* With Iris Stone, violin: W. A. Mozart, Sonata KV 526, A-Major, Molto Allegro
* With Charmillon Piano Quartet: Johannes Brahms, Quartet in c-minor, op. 60, Scherzo
MOZART - BRAHMS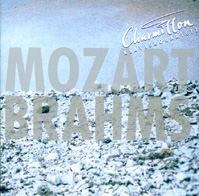 Charmillon Piano Quartet
Eva-Maria Zimmermann, piano
Etienne Abelin, violin
Michael Schwendimann, viola
Matthias Kuhn, cello
Wolfgang Amadeus Mozart
Piano Quartet in g-minor, KV 478
Allegro
Andante
Rondo (Allegro moderato)
Johannes Brahms Piano Quartet in c-minor, op. 60
Allegro non troppo
Scherzo
Andante
Finale (Allegro comodo)
If you would like to buy this CD please contact Eva-Maria (Email Eva-Maria).
CD review:

"A program as one would wish to hear in a concert - and interpretations that convince in their clarity: The members of the Charmillon Piano Quartet prove themselves to be masters of the well constructed spontaneous interpretation. The Mozart quartet is played in a wonderfully lean and pure way. Nothing is overloaded with interpretation, nor is it meaningless. In this manner the dramatic character of the piece comes through better than on recordings that might initially sound more spectacular. Special attention should be given to the pianist's concentrated yet relaxed way of playing as well as the clear structuring and careful use of vibrato by the string players.

The following well conceived concept is immediately convincing in the Brahms quartet as well: Tempo indications are respected (unlike in most other recordings) without requiring "little freedoms" to do justice to the music. Like this, the dark urgency of the first movement and the restless impetuosity of the Scherzo are immediately thrilling, while the magnificent Adagio excels through clarity of voice leading and counterpoint - therefore achieving the desired effect of an untouchable moment of peace.

This recording is not a contest of individual brilliance - everything is subordinated to the musical structure. The four Charmillon musicians haven't mistaken themselves: With these quartets, Mozart and Brahms have created architectural masterpieces, whose greatness remains too often hidden behind bumptious soloist ambitions.

Dr. Peter Gülke's outstanding CD-booklet text should be mentioned here: His comments about the two pieces, as well as the form of the piano quartet in general, correspond strikingly with the interpretations of what clarity and seriousness is concerned.

Since we are talking about the booklet, I'd like to loose a word about the design: The simple cover in pale-cold blue and gray tones does neither justice to the very personal compositions nor to Charmillon's impressively honest way of playing. You cannot have everything..."
Jakob Clasen
SCHWEIZERISCHE MUSIKZEITUNG, June 2002